Do you find yourself asking the question – What are the best biking trails near me in Houston? or Where can I ride my bike in Houston? We have the answers for you! No matter the time of year, you can always go biking in Houston.
Whether you're looking for an urban trail or a rougher ride, the options in Houston never cease. We've rounded up the best biking trails in Houston and beyond so that you can get fit, see the city, and become a master cyclist.
9 of the Best Biking Trails in Houston
Where is Buffalo Bayou Trail?
1019 Commerce Street, Suite 200, Houston, TX 77002
When can I ride the Buffalo Bayou trail?
Open daily from sun up to sundown
How long is the Buffalo Bayou Trail?
A top priority of Buffalo Bayou Partnership is to build a continuous system of trails on the north and south banks of Buffalo Bayou from Shepherd Drive to the Turning Basin. This will give Houstonians and visitors 20 miles of trails to run, walk and bike along our waterway. For now, you'll have to explore the trails separately. The West Sector is from Shepherd Drive to Sabine Street with a separate space for walkers.
Where is Brazos Bend State Park?
21901 FM 762 Needville, TX 77461
When does the Brazos Bend State Park Open?
Open daily 8 am to 10 pm
How long is the Brazos Bend State Park Trail?
13 miles of multi-use trails are available.Circle the lakes at Brazos Bend State Park and ride through the forest. These interconnecting trails circle back to one another so you may want to download a park map. You can ride your bike on trails under trees draped with Spanish moss.
What is the entry fee for Brazos Bend State Park?
$7 for 13 years and older, free for 12 years and under
Where is Terry Hershey Hike & Bike Trail?
Located in Terry Hershey Park, this biking trail runs along the Buffalo Bayou. You can cycle from the Beltway to Highway 6 with plenty of shade and scenery. There are also plenty of spaces to have a picnic, play, and even watch the nightly bat migration! Located at 15200 Memorial Houston, TX 77079
When is the Terry Hershey Trail open?
7:00 am to 10:00 pm
How long is Terry Hershey bike trail?
12.2 miles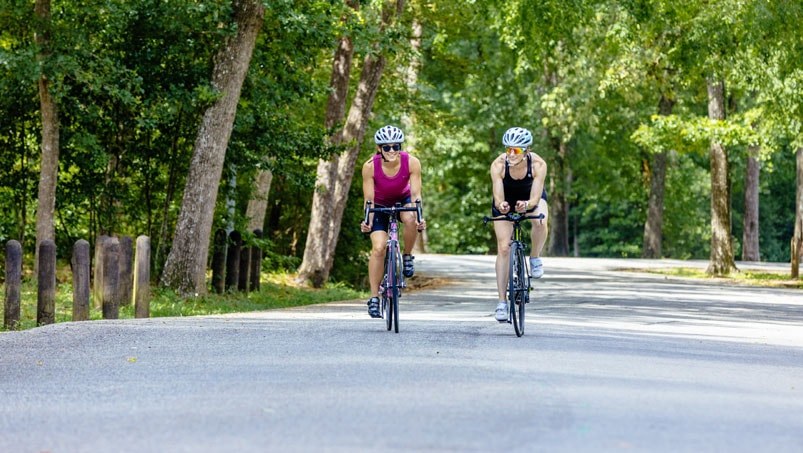 Where is Memorial Park located?
6501 Memorial Dr, Houston, TX 77007.
Where to park when visiting Memorial Park?
Parking details are located here.
What are the trails at Memorial Park?
Houston BCycle bike share rentals are available at two stations in the Park, one at the Cullen Running Trails Center and one at Picnic Loop. BCycles are permitted on paved areas including Picnic Loop, the Hike-Bike Trail on the southern edge of Memorial Drive, and roads as well as the Outer Loop Trail. Bikes are not allowed on the Seymour Lieberman Trail. Mountain bikers are especially fond of trails located in the Bayou Wilds, the southwest section of Memorial Park. Electric or motorized vehicles such as motorized bikes are strictly prohibited in Memorial Park's southside trail system.
When is Memorial Park open?
7:00 am to 10:00 pm
Where is White Oak Bayou Greenway located?
Starting in northwest Harris County, White Oak Bayou travels Southeast to the historic Allen's Landing downtown where it joins Buffalo Bayou. Click here for map.
How long are the biking trails at White Oak Bayou Greenway?
Going along TC Jester, this bike path features over 15 miles of trails and it also connects with the Heights Hike and Bike Trail to give you more access to the city.
Where is Brays Bayou Greenway located?
Beginning in northern Fort Bend County and flowing East, Brays continues past the Texas Medical Center and the University of Houston, all the way toward the Ship Channel on a tour of Houston's rural and urban landscapes.
How long are the biking trails at White Oak Bayou Greenway?
This 33-mile long path through Southwest Houston is extra wide and paved. Most of the trail has very little shade so you'll want to wear sunscreen. You'll bike along the Brays Bayou alongside walkers and runners. Use your biking etiquette and you'll be fine.
Where is Bear Creek Pioneers Park located?
3535 War Memorial Drive, Houston, TX 77084, United States. Click here for directions.
What are the trails at Bear Creek Pioneer Park?
This sprawling park in West Houston has plenty of shady trees, open fields, and picnic tables so you can make a day of your biking outing. The paths are paved and extra wide but you'll be sharing them with walkers, runners, and the occasional car. Keep to the right and be aware of your surroundings. You'll also want to observe the speed limit.
When is Bear Creek Park open?
7:00 am to 10:00 pm
Cypress has plenty of hike and bike trails to choose from but this one makes the list for its variety of elevations and landscapes. There is a paved path along with several off-road trail options. Bike past the bridge and take a ride around the bayou.
Where is Richard & Meg Weekley Park located?
8440 Greenhouse Road, Cypress, Texas 77433
How long is the biking trail at Richard and Meg Weekley Park?
2 mile route with elevation increase of 16.4 feet.
The North River Trail is great for biking at this far Northeast Houston area park. This out of the way preserve is more rustic than others on this list so come prepared for an adventure. There are 26 miles of trails and 2 popular routes.
Where is Lake Houston Wilderness Park located?
25840 FM 1485 New Caney, TX 77357
What hours is Lake Houston Wilderness Park open?
8:00 am – 5:00 pm, M-F
Also, check out our guide for best hiking trails in the Houston area.